Tree Removal in the Rockford Region
Removing a tree can be a daunting proposition. We are here to simplify the problem for you by taking control of all the hazards and responsibilities associated with tree work. From complex rigging to accurate felling to completely removing the limbs and wood from your property; we can handle all the technical and logistical aspects of removal no matter what the size or location of your tree might be.
Felling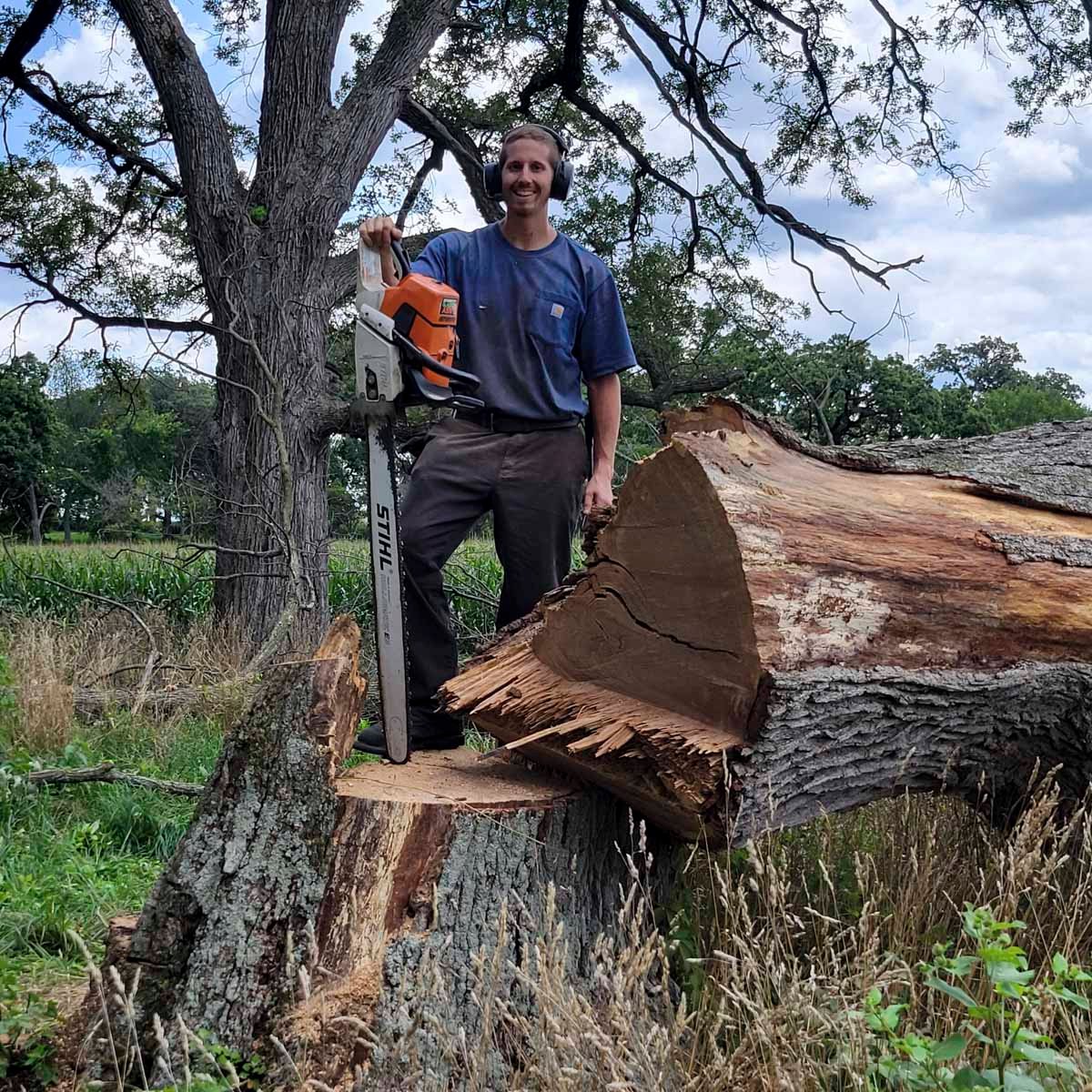 In the right circumstances, felling can be the most affordable option for the take-down process. Whether the tree is very large in diameter, if it leans in the wrong direction, or even if the integrity of the trunk is questionable, we are able to perform exactly the right felling method for your tree. Every detail counts, and we count them so you don't have to! If a tree is too hazardous for felling, we will provide a thorough assessment with all details for your consideration. There is always the option of parting out the tree or a crane removal if the job is too dangerous for traditional methods.
Brush Chipping
Tree limbs are fed to a wood chipper and removed from the property in a chipper truck. The chipper is loud but your tree will be gone before you know it!
Some customers prefer to handle all the brush and/or wood and save money on the project. This is a great way for our customers to get a big discount and still have the guarantee that the technical parts of the tree removal will be done safely.
Backyard Removals
Though a tree might be located in an area with no truck access, there is always a way to get the job done! We specialize in removal by climbing method. While bucket trucks may be impressive machines, they can't get everywhere, and it is important to remember than anybody can ride the bucket, while it takes years of dedicated experience to become a capable climber. This ensures that the person who is making critical decisions with your tree removal has the knowledge and ability to safely remove your tree! Along with this skill set comes full access to any tree that you need trimmed or dismantled behind or beside your home.
Light Machinery
Our Bobcat MT100 mini track loader has a ground pressure of only 5.25psi; that is less than the 16psi applied by a human foot! Not only can this machine lift 1000lbs, but it can fit through a standard 3-foot gate. That means that the backyard work can be done efficiently and carefully by our skilled operators and your property can go back to being a peaceful oasis in the shortest possible amount of time.
Stump Grinding
Stump grinding is sold separately from removal. We do the grinding on the same day as removal and cleanup. It is not sub-contracted out, and you do not pay until the job is complete! Many customers have complained of bad experiences with prior stump grinding services they have hired. Rest assured we will perform the complete grinding service down to the depth requested, and only charge you for the machine time so you don't pay more than the service is worth!
Tree Removal Service Rockford IL
Also providing tree service as far as Freeport, South Beloit, Cherry Valley, and Byron